Description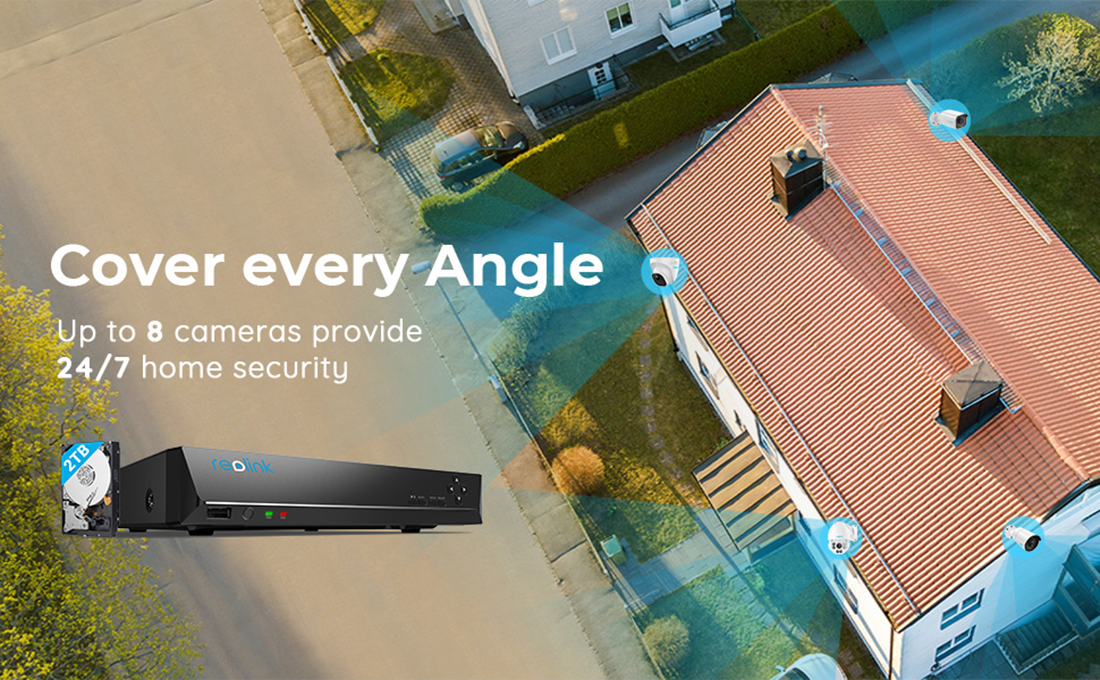 Reolink PoE NVR 8 Channel Home Security Camera System Video Recorder with 2TB Hard Drive Support 720p/1080p/4MP/5MP HD IP Camera RLN8-410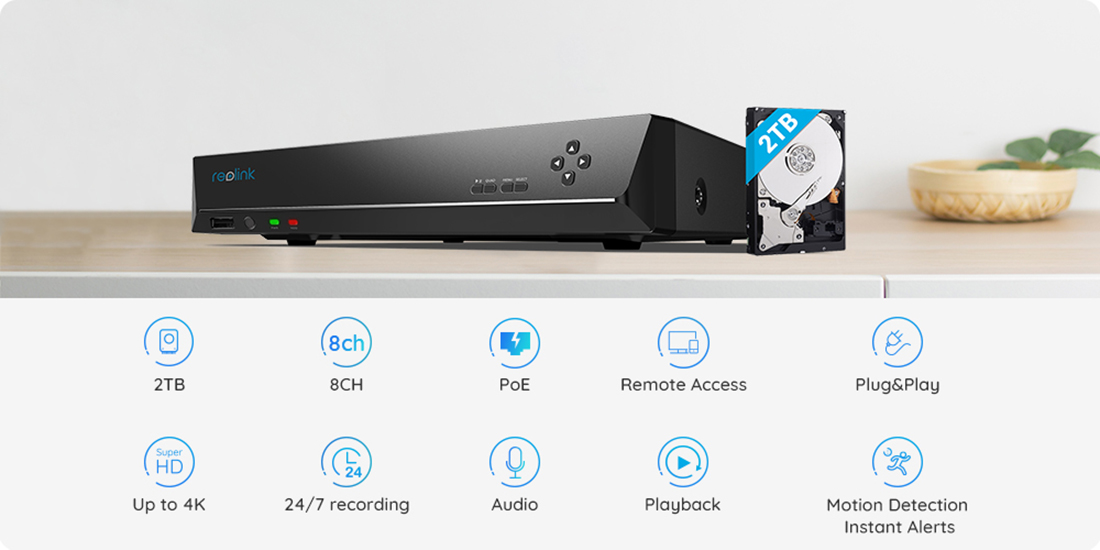 24/7 Continuous Recording
If you want 24/7 video recording or if you have multiple IP cameras to manage, this Reolink NVR is your best choice. Pre-installed 2TB HDD for 24/7 recording and monitoring. Support all cameras recording at the same time (up to 8 cameras). You can install an external hard disk drive via e-SATA for more storage (up to 4TB)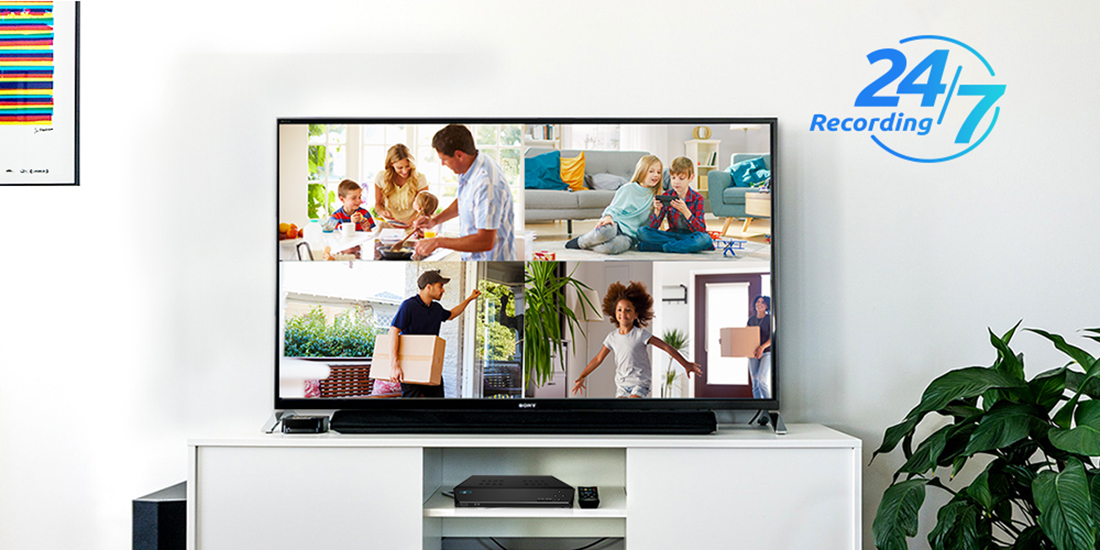 Storage Up to 8TB
RLN8-410 supports installing one Internal HDD and one External HDD at most. With the capacity of each HDD up to 4TB, the storage of RLN8-410 could up to 8TB!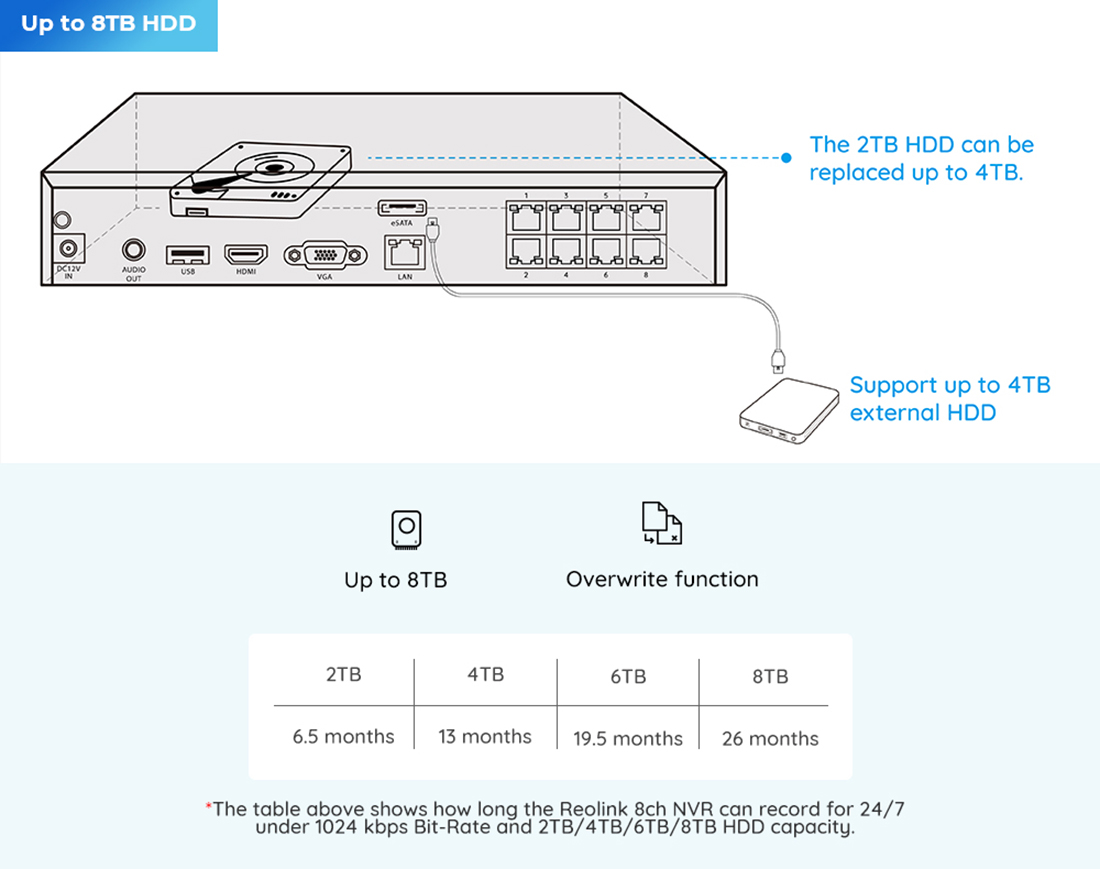 Work with All Reolink 4K/5MP/4MP PoE/WIFI IP Cameras
This Reolink RLN8-410 8-channel PoE NVR works perfectly with all our 4K/5MP/4MP PoE/WIFI IP cameras for 24/7 recording, motion detection, live views, playback and more features. Supported Reolink PoE IP cameras include: B400, D400, RLC-410, RLC-420, RLC-422, RLC-423, RLC-511, B800, RLC-410W, RLC-511W, etc.
Plug and play, easy connection with Reolink PoE cameras.
It will automatically recognize Reolink 5MP/4MP WiFi cameras connected to the same router.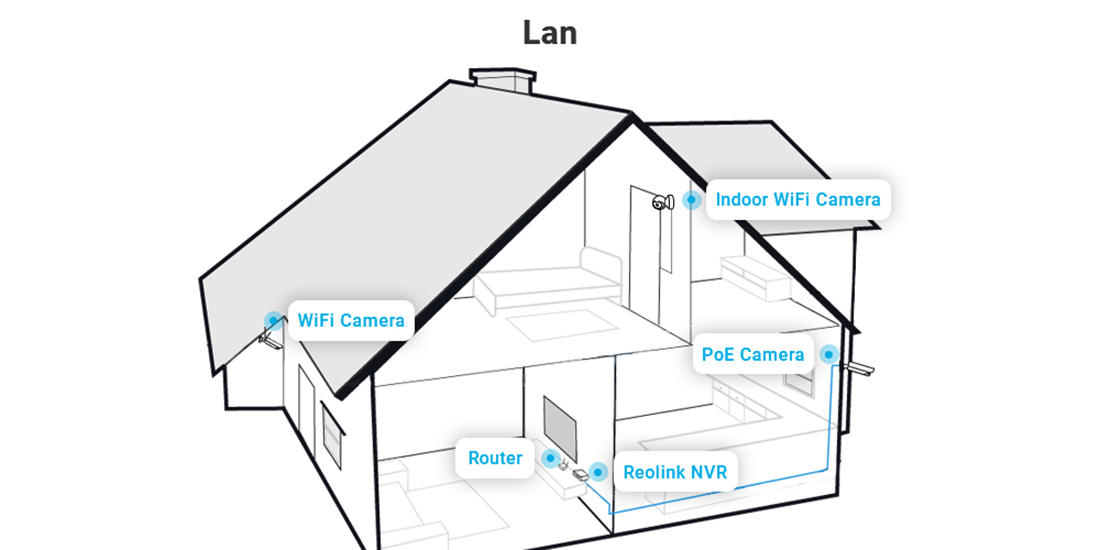 PoE – Easy Setup & Real Plug and Play
A real plug and play network video recorder! This RLN8-410 NVR features PoE (Power over Ethernet), with a single network cable connecting each of your IP cameras to the NVR for both power supply and video signal transmission. Easy wiring – the wiring process can't be simpler for DIY enthusiasts.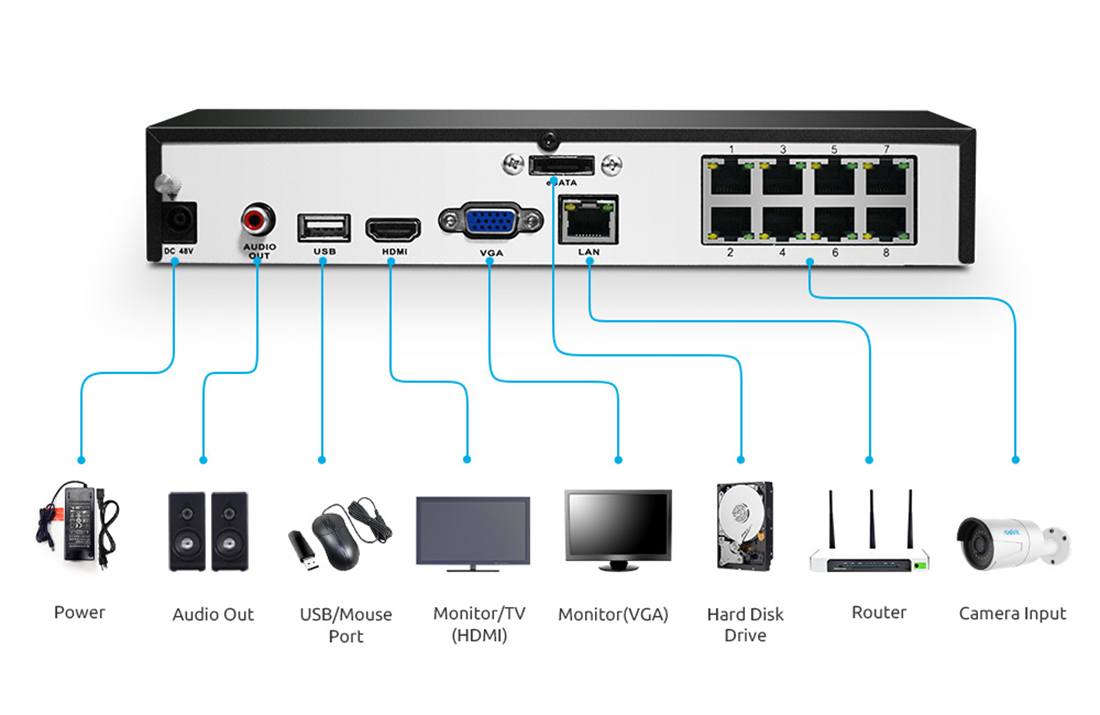 Support 4K Ultra HD
Working with Reolink 4K PoE camera, the RLN8-410 could boast the pixel resolution of 3840×2160, delivering the highest level of imagery like never before.
Local and Remote Access and Control
This NVR can be used for home and business security video system. You can connect the system to a monitor or a HD TV for local access, live view and management; or you can connect the system to your network, and use free Reolink App or Client to get remote access and control.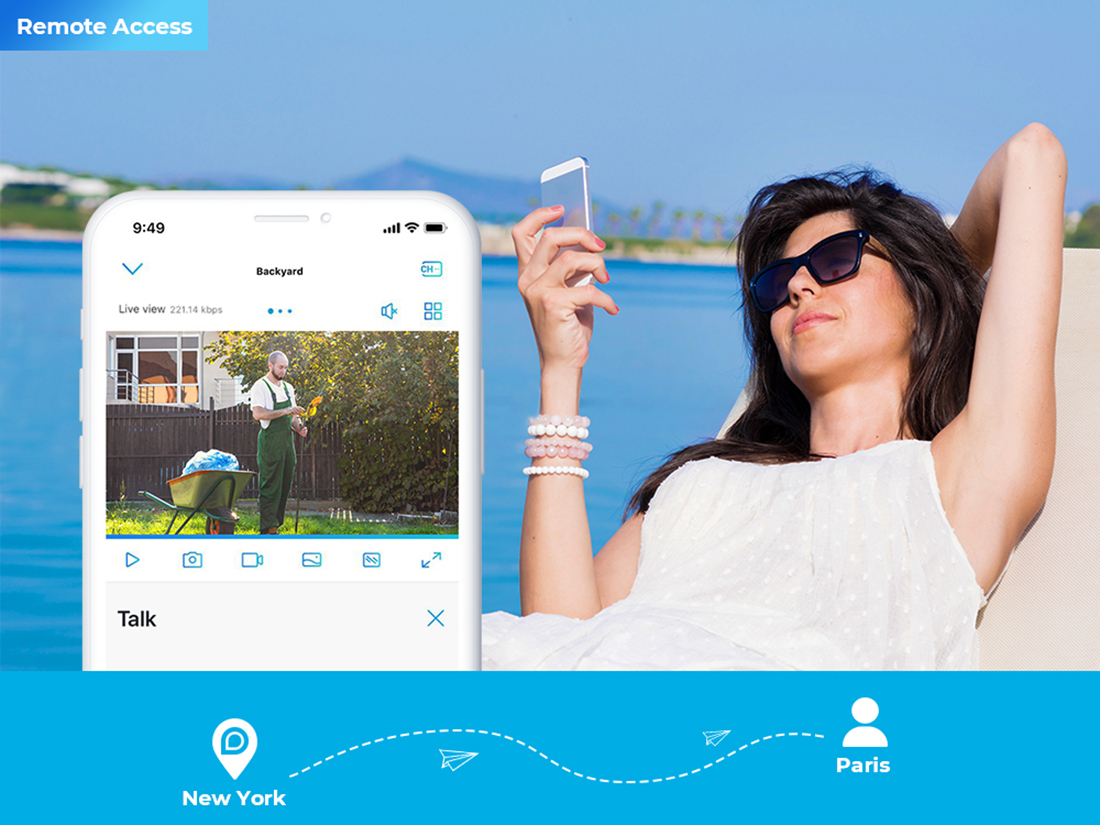 Playback, Backup, and Rich Alerts
The NVR will sound a buzzer sound using the buzzer function. Use this NVR with Reolink PoE cameras and you can get a professional, reliable and DIY security camera system. You can play back any recorded video, back up local data, adjust any settings, and do more.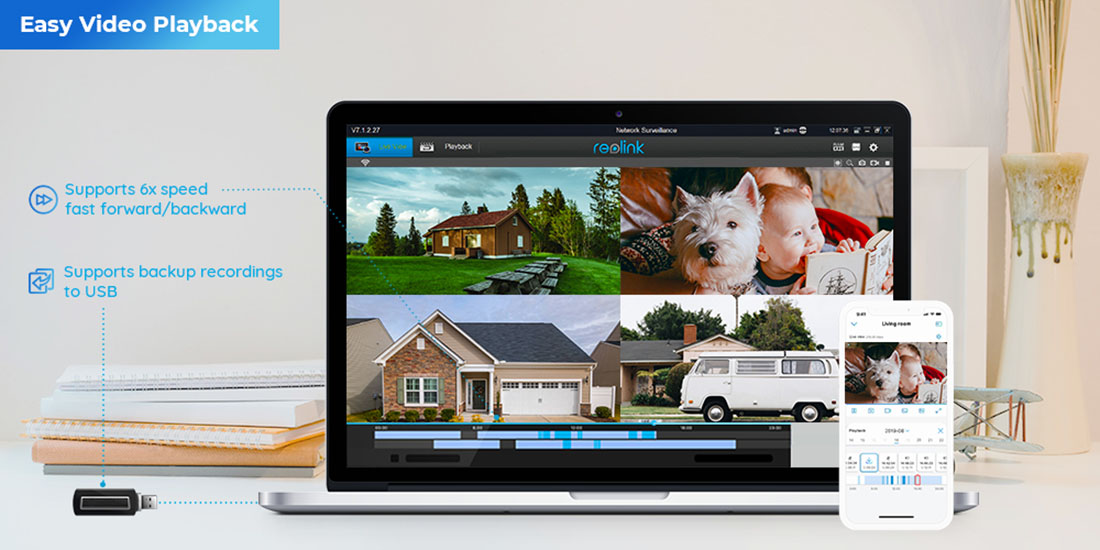 Applied to Multiple Occasions